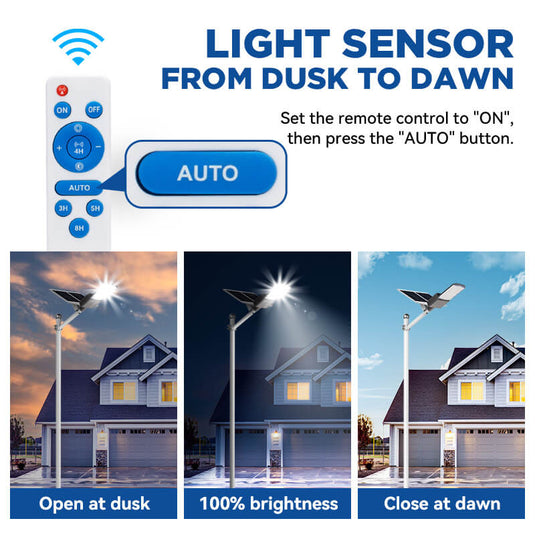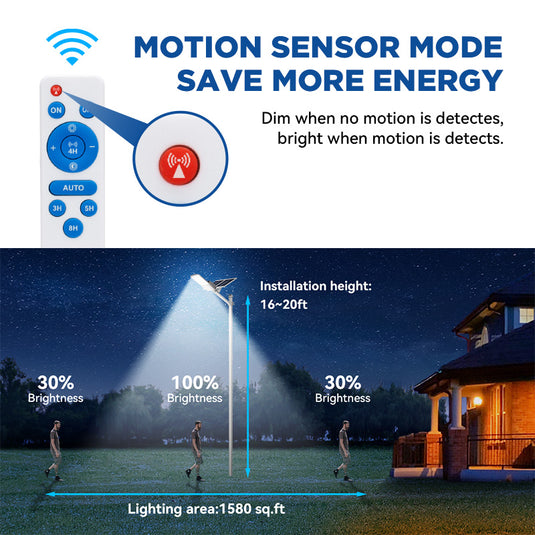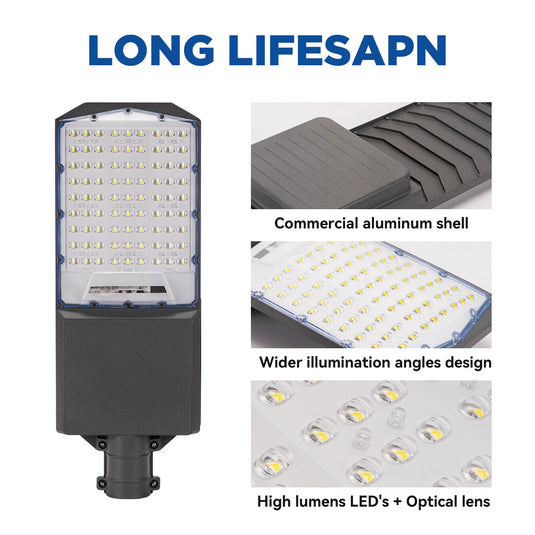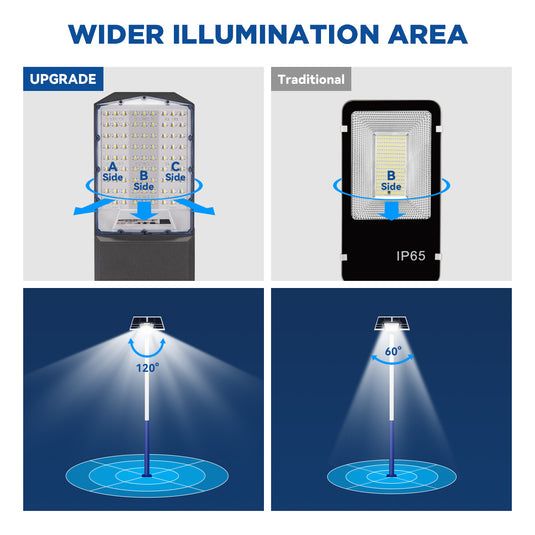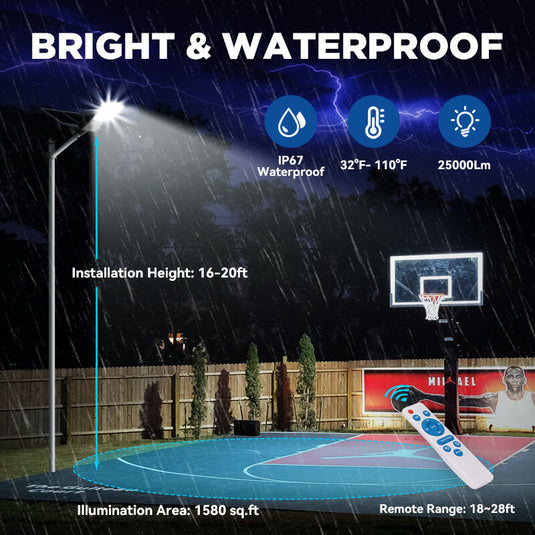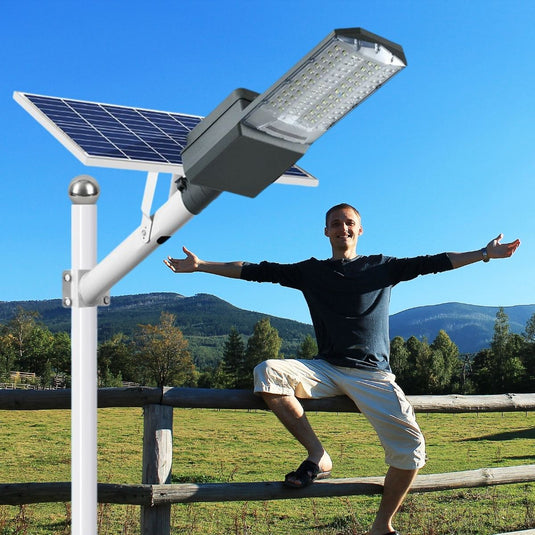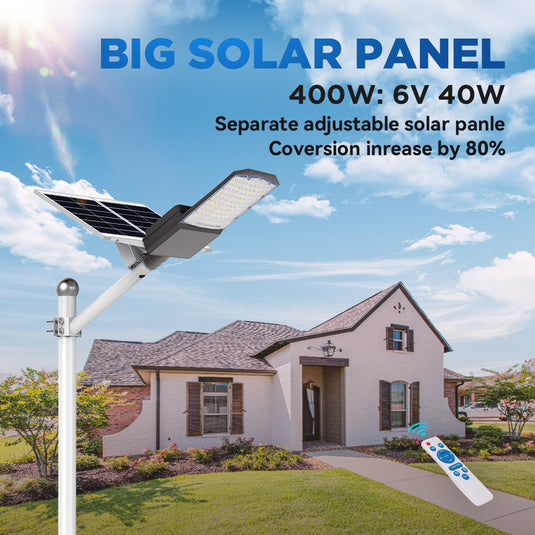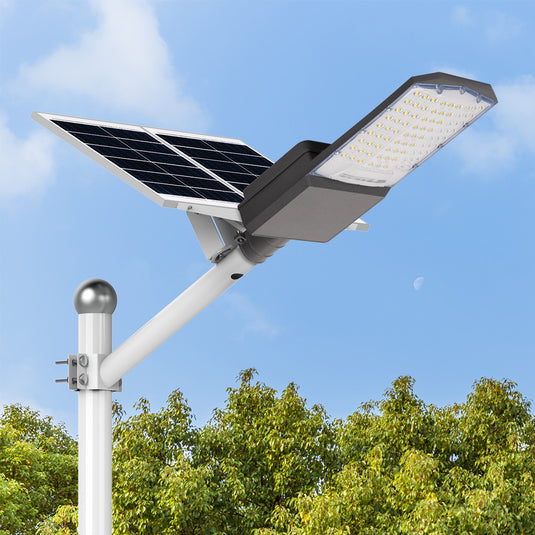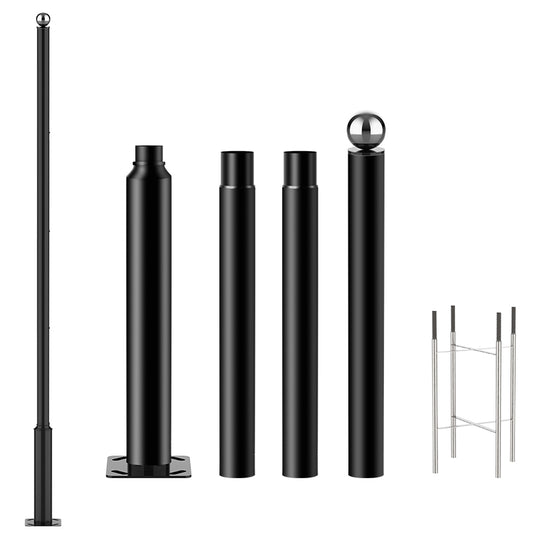 Specifications
| | |
| --- | --- |
| Watt | 400 W |
| LED Quantity | 81 pcs  |
| Solar Panel | 6V / 40 W |
| Solar Panel size  | 23.2" x 8.6" x 1" |
| Coverage | 1580 sq ft (at 22ft height) |
| Color Temperature | 6700 K |
| Battery Capacity | 30,000 mAH |
| Light Dimensions | 23 x 8.6 x 3.5 inches |
| Light Weight | 16lb |
| Installation height | <24 ft |
| Warranty | 1 year  |
| Recommended pole diameter | 3-4" |
| Remote control (Infrared)distance  | 28ft  ( Opposite)  / 18 ft  (30° Angle) |
【SUPER BRIGHT】 Solar street light 400W, 6700K daylight white, street light dusk to dawn outdoor lighting, can produce 25000lm brightness output. It is 3-4 times brighter than other solar outdoor lights on the market. High-efficiency solar panel 6V/40W (life span up to 60000 hours) large energy storage, good heat dissipation, and strong outdoor lighting performance.

【0 ELECTRICITY BILL】 LANGY solar street light has a polycrystalline silicon solar panel can convert 25% of solar energy into electricity with a battery capacity of 30000 mAh. Solar powered street lights charge for 4-6 hours during the day and work for 13-18 hours at night. Working auto from dusk to dawn, they cost nothing to operate and work well in yards and barns without power.

【REMOTE CONTROL】 Solar street light can set 3 working modes by using remote control. 

【EASY TO INSTALL】 Our solar street lights meet two types of installation: wall and pole. The recommended installation height is 10-21ft and the lighting range is1680sq.ft. solar parking lot lights can be installed in higher parking lots, basketball courts, barns and yard, etc.; LANGY is a good choice for commercial lighting.

【AFTER SALES SERVICE】 LANGY SOLAR is a company specializing in the production and sales of street lights, providing 7x24 hours online customer service, if you have any questions, please contact us as soon as possible, and provide a two-year warranty and return services.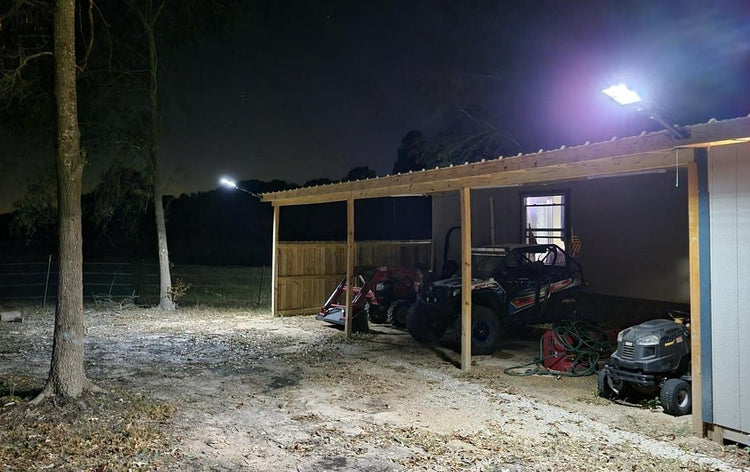 Flash deals
GRAB IT BEFORE IT ENDS