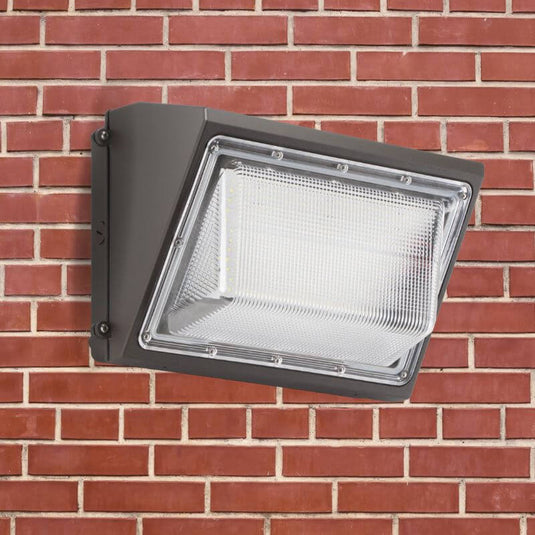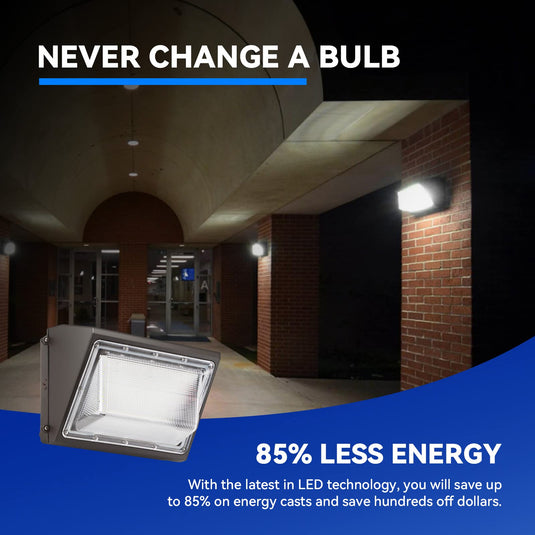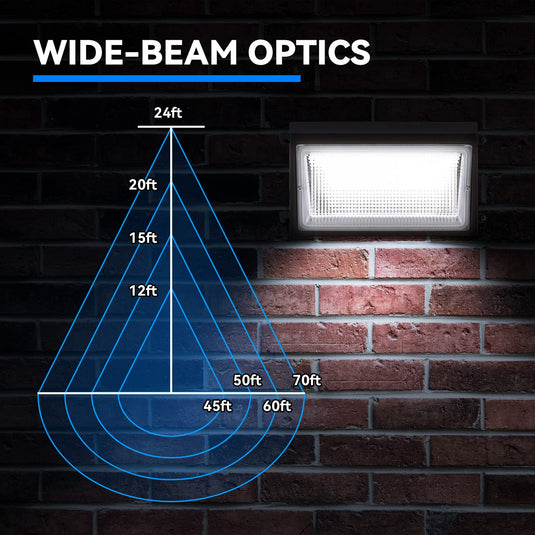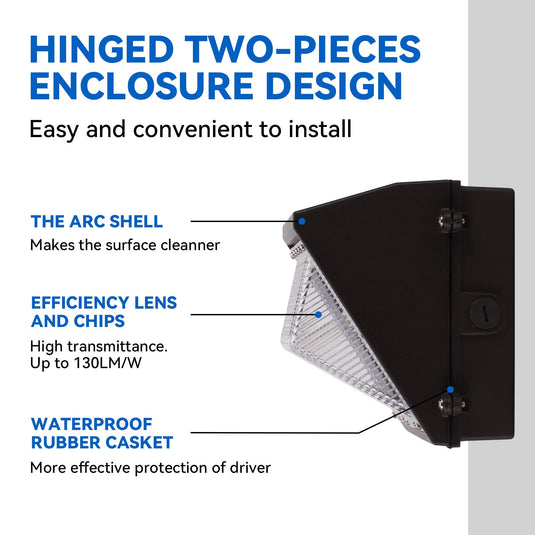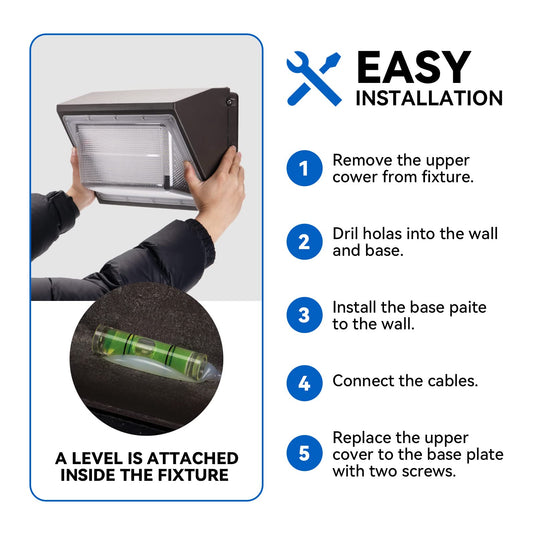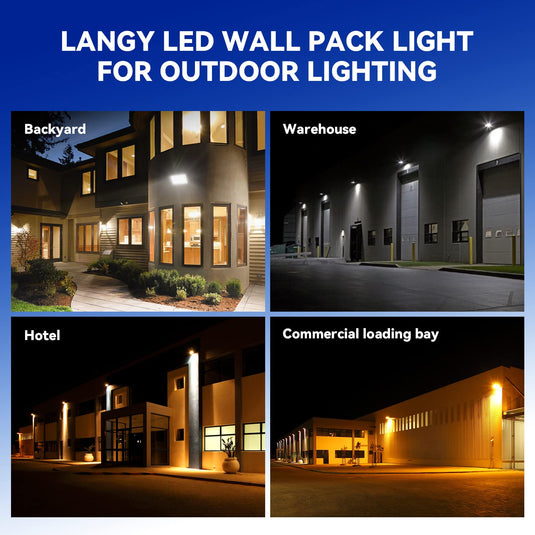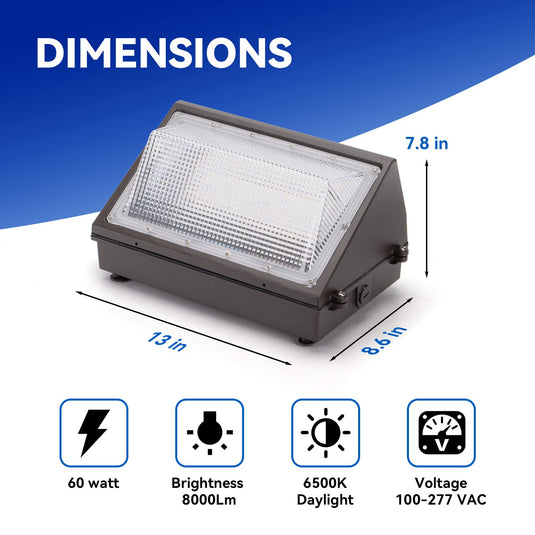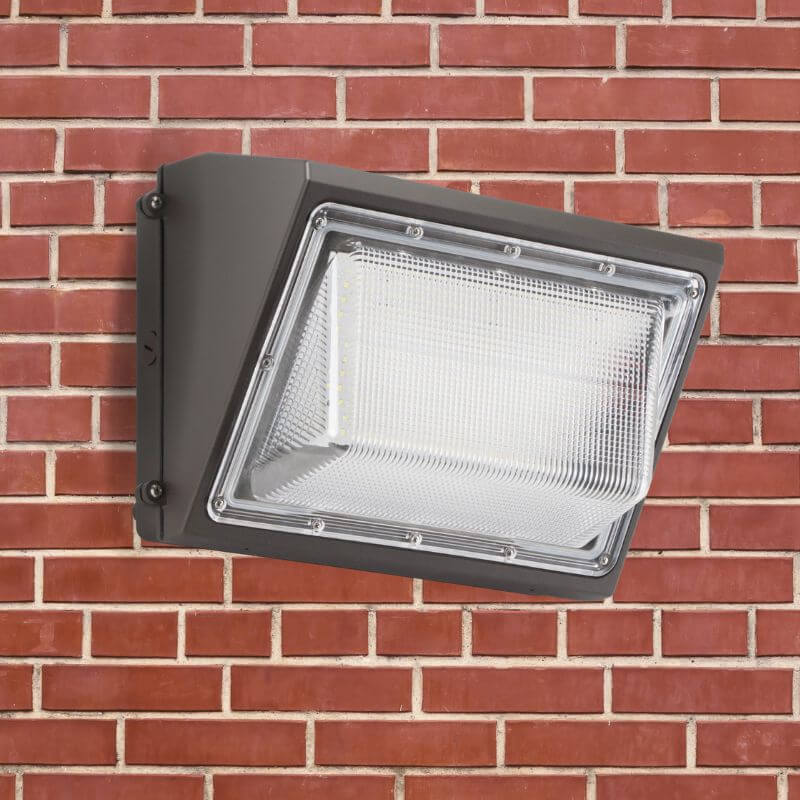 【𝐒𝐀𝐕𝐄 𝟖𝟓% 𝐄𝐍𝐄𝐑𝐆𝐘】LANGY LED Wall Pack Light Fixture 16200lm with only 100W power consumption, perfect replacement for standard 500W to 600W HPS or HID fixtures. LANGY LED wall pack Light save up to 85% on their energy bills,in comparison to metal halide lamps. Perfect for wall perimeter lighting, garages, large backyards, commercial loading bays, warehouses, apartment complexes, hotels and office and retail complexes.

【𝐇𝐈𝐆𝐇 𝐁𝐈𝐑𝐆𝐇𝐓𝐍𝐄𝐒𝐒 & 𝐖𝐈𝐃𝐄𝐑 𝐋𝐈𝐆𝐇𝐓 𝐀𝐑𝐄𝐀】The LED wall pack light blends together both effieiency and brightness. With 240Pcs Led, this light yields 16200lm and with wide beam optics, the LANGY LED wall pack Light delivers the pefect illumination for outdoor security lighting. Suggested for mounting heights from 15-20ft.

【𝐖𝐀𝐓𝐄𝐑𝐏𝐑𝐎𝐎𝐅 & 𝐃𝐔𝐑𝐀𝐁𝐋𝐄 & 𝐑𝐄𝐋𝐈𝐀𝐁𝐋𝐄】Constructed with both die-casting aluminum with a commercial-grade power coat bronze finish, an impact-resistant tempered glass lens, and maintenance-free LEDs, the commercial wall pack lighting ensure high performance over 50,000-hours of use. LANGY LED Wall Pack Light can withstand all kinds of outside bad weather conditions. IP65 waterproof, The working temperature is -50℉-140℉.

【𝐄𝐀𝐒𝐘 𝐓𝐎 𝐈𝐍S𝐓𝐀𝐋𝐋】Our led wall packs come with a hands-free wiring mounting bracket, making installation safe and easy. The detachable mounting plate fits most standard junction boxes and can be surface mounted and wired via conduit entries. For questions or need installation help, please reach out to us.

【𝐏𝐑𝐎𝐅𝐄𝐒𝐒𝐈𝐎𝐍𝐀𝐋 𝐓𝐄𝐂𝐇𝐍𝐈𝐂𝐀𝐋 𝐒𝐔𝐏𝐏𝐎𝐑𝐓 & 𝐒𝐄𝐑𝐕𝐈𝐂𝐄𝐒】LANGY provides THREE-YEAR WARRANTY for each wall light. Feel free to contact us through Amazon if you have any quality or operation problems with the product, and we will deal with it within 12 hours.